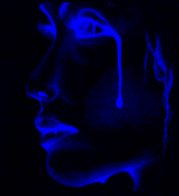 Alright -- Tuesday seems to be perfect for a deepie. I keep wondering how it is possible that a song with such a sad theme manages to make me dance and float on cloud 10 ... I guess this just goes to prove that music is capable of reconciling the sad with the happy.
Unfortunately, not much info available on this sweet-singing artist. All I could find out was that John Baldwin has recorded this beautiful deepie for Juca Records in 1973.
I'm hoping for Marc, the rescuer, to pop up with some info ...
Tweet